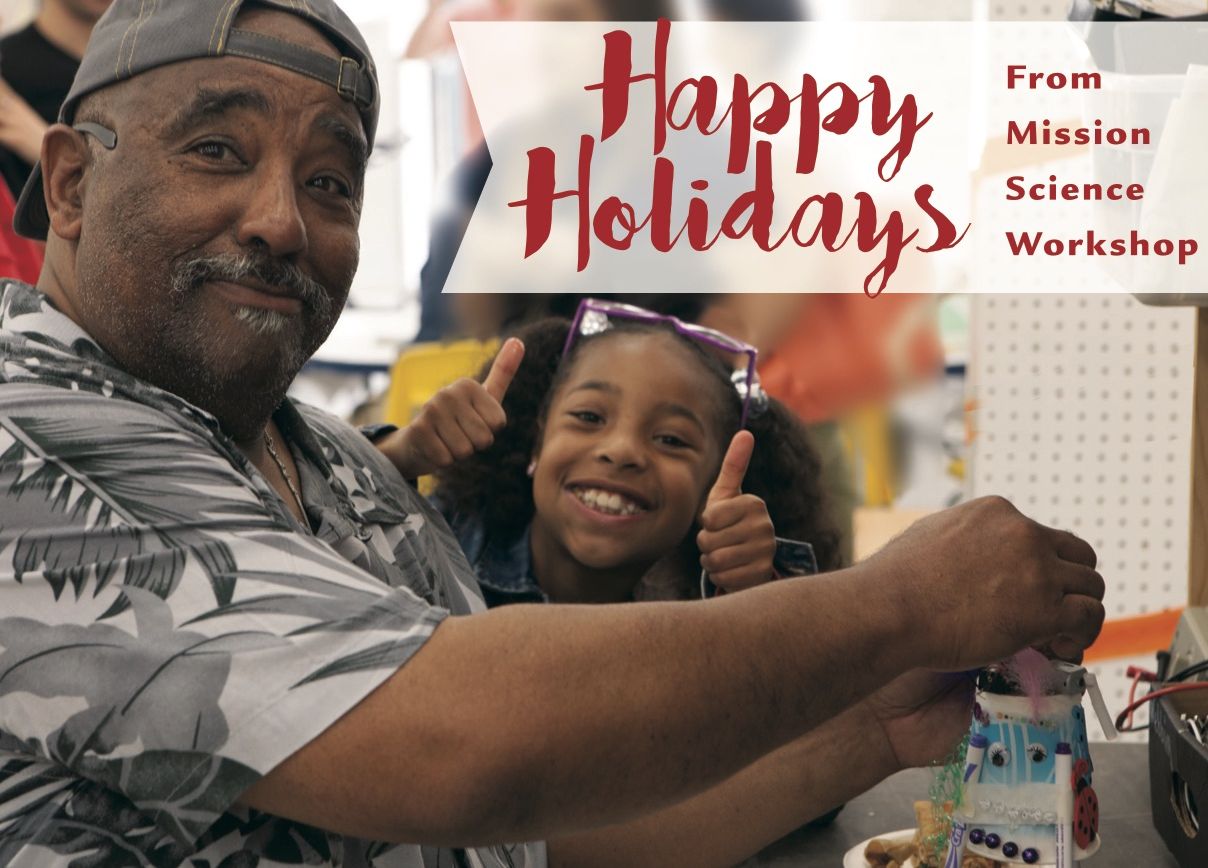 This year has been one of exciting new growth, especially with our Excelsior Site! We are reaching more students than ever before, and are proud to say that we have been able to expand our programs to reach high-need schools in Bayview/Hunters Point with free hands-on science field trips.
We've added new Wednesday open house hours to our workshop in the Mission. These Tinker Time and Saturday programs are free and open-to-everyone; brimming with families from across the city -- making magnetic bumbleboppers and birdhouses, or learning about water scorpions and cow eyeballs.
When a fire forced us to relocate two years ago, we saw a groundswell of support to maintain this valuable community resource in the Excelsior district. However, we are still facing a major challenge to stay in this space. City funds have helped us pay the difference in rent cost (about $5000 more than we had been paying). In the new year this aid from the city will expire and our small non-profit will be forced to make up that cost.
Each dollar raised goes towards keeping MSW's doors open, stabilizing our presence in the neighborhood. We need your help to continue serving communities in SF. Please consider making a contribution today.
Mission Science Workshop is a fiscally sponsored by

Community Initiatives

, a 501(c)3 non-profit.
To donate by check, please make it out to "Community Initiatives for Mission Science", and mail to:
Mission Science Workshop
3750 18th St.
San Francisco, CA 94114
Thank you !!
Donate via Credit Card or eCheck
Is my donation and credit card info secure?
Yes, the security and confidentiality of your information is our highest priority. We will not sell, trade or share your personal information with anyone else, nor send donor mailings on behalf of other organizations, and we will only share personal information if you have given us specific permission to do so.
Is my donation tax deductible?
Yes, we are a fiscally sponsored project of Community Initiatives, which is a public 501c3 organization recognized by the IRS. Your donation is tax-deductible to the fullest extent permissible by law.
How do I know that my donation was made successfully?
You will receive an emailed receipt immediately after your donation is submitted and your credit card is processed. Your donation will also show up on your bank or card statement within 1-3 business days.
Do I get a receipt?
Yes, a receipt is sent to your email inbox once your donation is processed. Please be sure to keep a copy of your receipt for tax purposes. If you select a recurring donation, you will be sent an individual receipt each period when your donation is processed.
Is my donation private?
We will not share or sell a donor's personal information with anyone else, nor send donor mailings on behalf of other organizations.