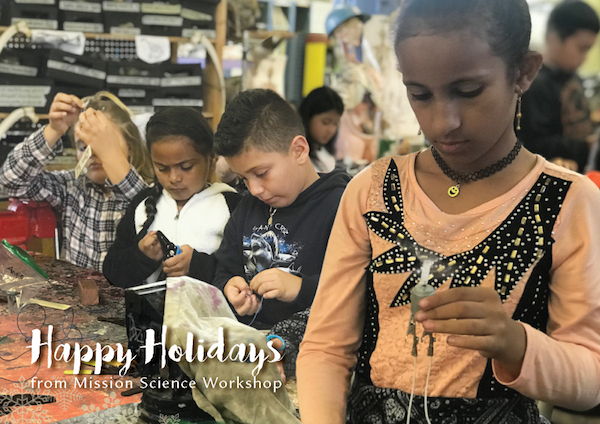 Make A Difference Today!
We are nearing the end of a successful year of providing hands-on science for over 15,000 students from high-need schools and communities! This year we also met several challenges, including working through the impact of a fire at our Excelsior site in December 2016. This holiday season our goal is to raise $50,000 to continue to inspire lifelong curiosity and wonder in students and families. And now, read on for an account of an MSW parent and board member, sharing his family's experience with the Workshop and holiday message:
Dear friends,

Ten years ago an extraordinary experience opened when my daughter Zai became a student of Mission Science Workshop in the first grade. We both fell in love with the science, art, tinkering, animals, creative forces, people and all the wonders we found in this unique space.

Science for Zai became a palpable and fun activity rather that a remote and dull, adult subject.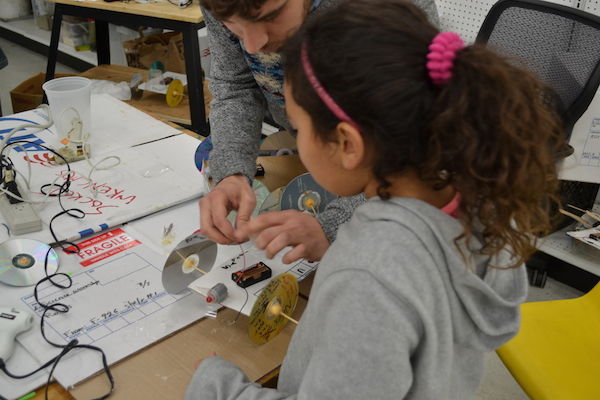 I was welcomed as a board member 2 years ago and am delighted to volunteer as MSW's graphic designer (their logo! this card!), and assist in fundraising. I also manage the care of the rescued animals, who live in the shop provide kids with unforgettable times of learning.

Imagine my family's distress when we learned about the fire at MSW's Excelsior site last December. Luckily, the Workshop received strong support from the community, and with this help was able to continue their programs - only cancelling 8 classes in the midst of the chaos. Since then the staff has worked hard to provide consistency for the students in their programs - moving to a temporary space, traveling to schools for classes, and taking on enumerable insurance tasks. But after 10 months of the time spent on this unexpected yet necessary work, MSW is still in great financial need.

The Workshop is still displaced from its permanent site in the Excelsior. They need the support of the community to keep its doors open for the students and their families for whom it is so essential.

At MSW, everything my daughter and I saw or touched became an opportunity for observation and appreciation. Most importantly, it gave us a place where we could explore the wonders and complexities of life through science together.

I hope you will join me in supporting this vital organization as a part of your holiday giving.

Thank you and Happy Holidays!
Raffaele Trudu
Mission Science Workshop is a fiscally sponsored by

Community Initiatives

, a 501(c)3 non-profit.
To donate by check, one can make it out to "Community Initiatives for Mission Science", and mail it to:
Mission Science Workshop
3750 18th St.
San Francisco, CA 94114
Thank you !!
Donate to Mission Science Workshop
Is my donation and credit card info secure?
Yes, the security and confidentiality of your information is our highest priority. We will not sell, trade or share your personal information with anyone else, nor send donor mailings on behalf of other organizations, and we will only share personal information if you have given us specific permission to do so.
Is my donation tax deductible?
Yes, we are a fiscally sponsored project of Community Initiatives, which is a public 501c3 organization recognized by the IRS. Your donation is tax-deductible to the fullest extent permissible by law.
How do I know that my donation was made successfully?
You will receive an emailed receipt immediately after your donation is submitted and your credit card is processed. Your donation will also show up on your bank or card statement within 1-3 business days.
Do I get a receipt?
Yes, a receipt is sent to your email inbox once your donation is processed. Please be sure to keep a copy of your receipt for tax purposes. If you select a recurring donation, you will be sent an individual receipt each period when your donation is processed.
Is my donation private?
We will not share or sell a donor's personal information with anyone else, nor send donor mailings on behalf of other organizations.